Miscellaneous
Thank you for visiting THE Ship In a Bottle web site.
Here you will find a various assortment of items for practical or decorative purposes.
Below you will find a small sample of the custom ropes we provide:
Click on the images below for a more detailed view or to purchase.
---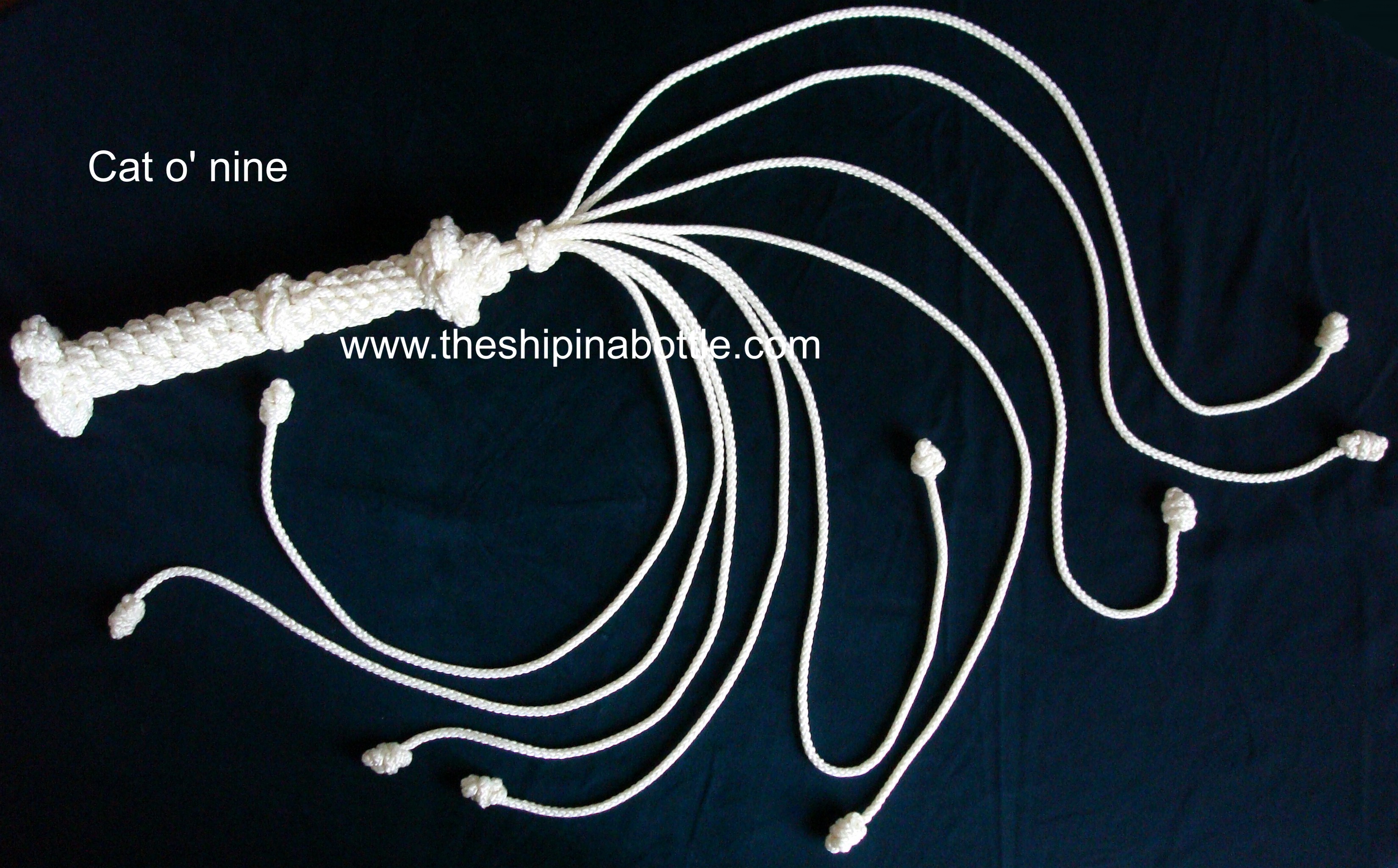 Item Description:
Custom tied Cat O' Nine Tails.
$49.95
---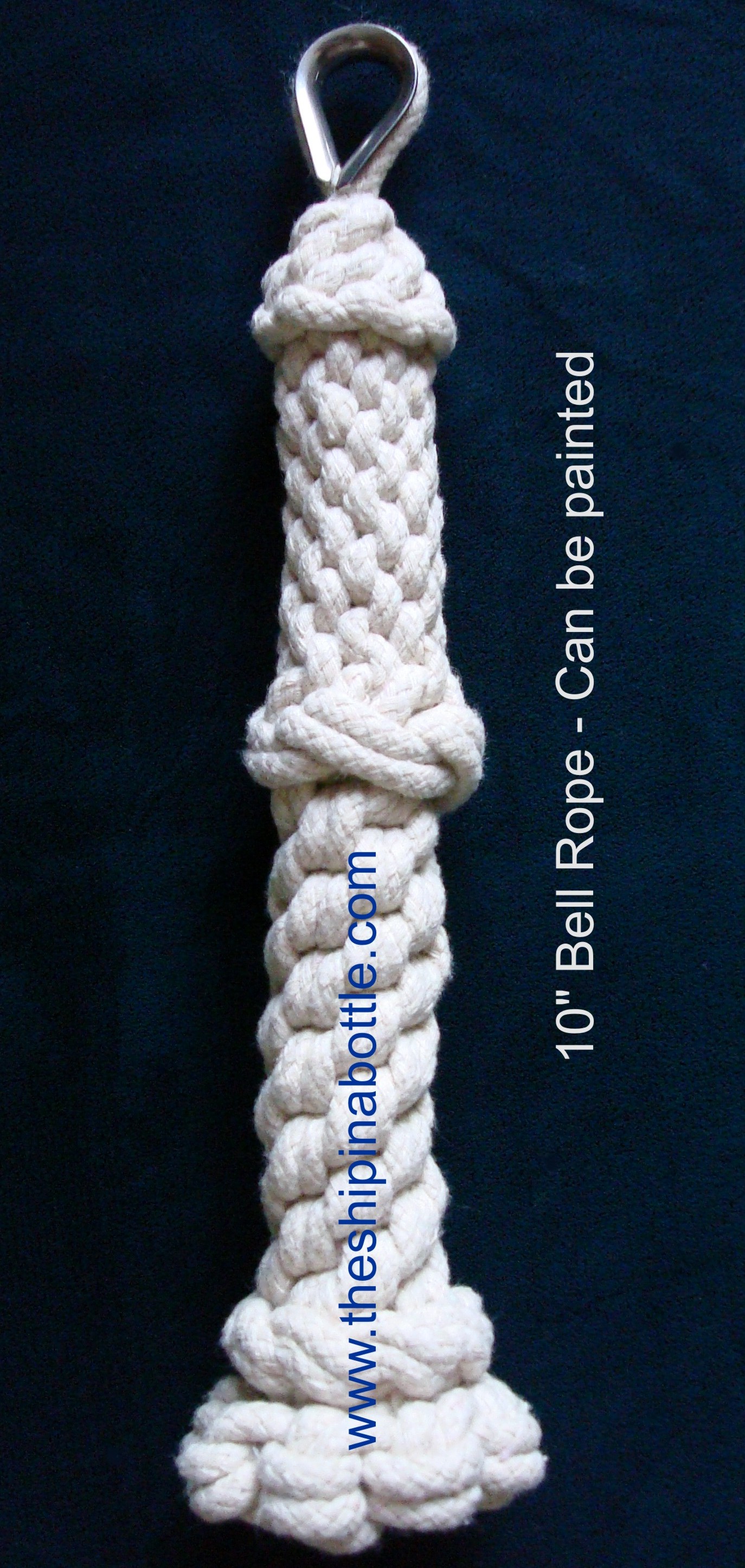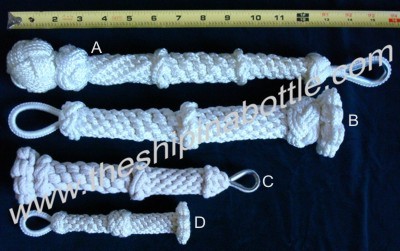 Item Description:
12 Inch Bell Rope
Unpainted Nylon
Item #ROPE-1201
Prices Vary
---
Our Bosun's Pipes are authentic pipes used by the US Navy. Not the replicas you typically see for a much cheaper price. Enjoy Owning Authentic Merchandise!!

Item Description:
Authentic US Navy Bosun's Pipe.
Our "Dennis Mauzy Special"
Item #PIPE-0001
Price $29.95
---
Accentuate your authentic Bosun's Pipe with a hand tied Ornamental Boatswain's Lanyard. You may order our standard lanyard below or request a custom designed lanyard to suit your preferences. I personally hand tie each lanyard sold from this site.
Item Description:
Custom tied US Navy Boatswain's Lanyard.
Item #LNYD-0001 Price $64.95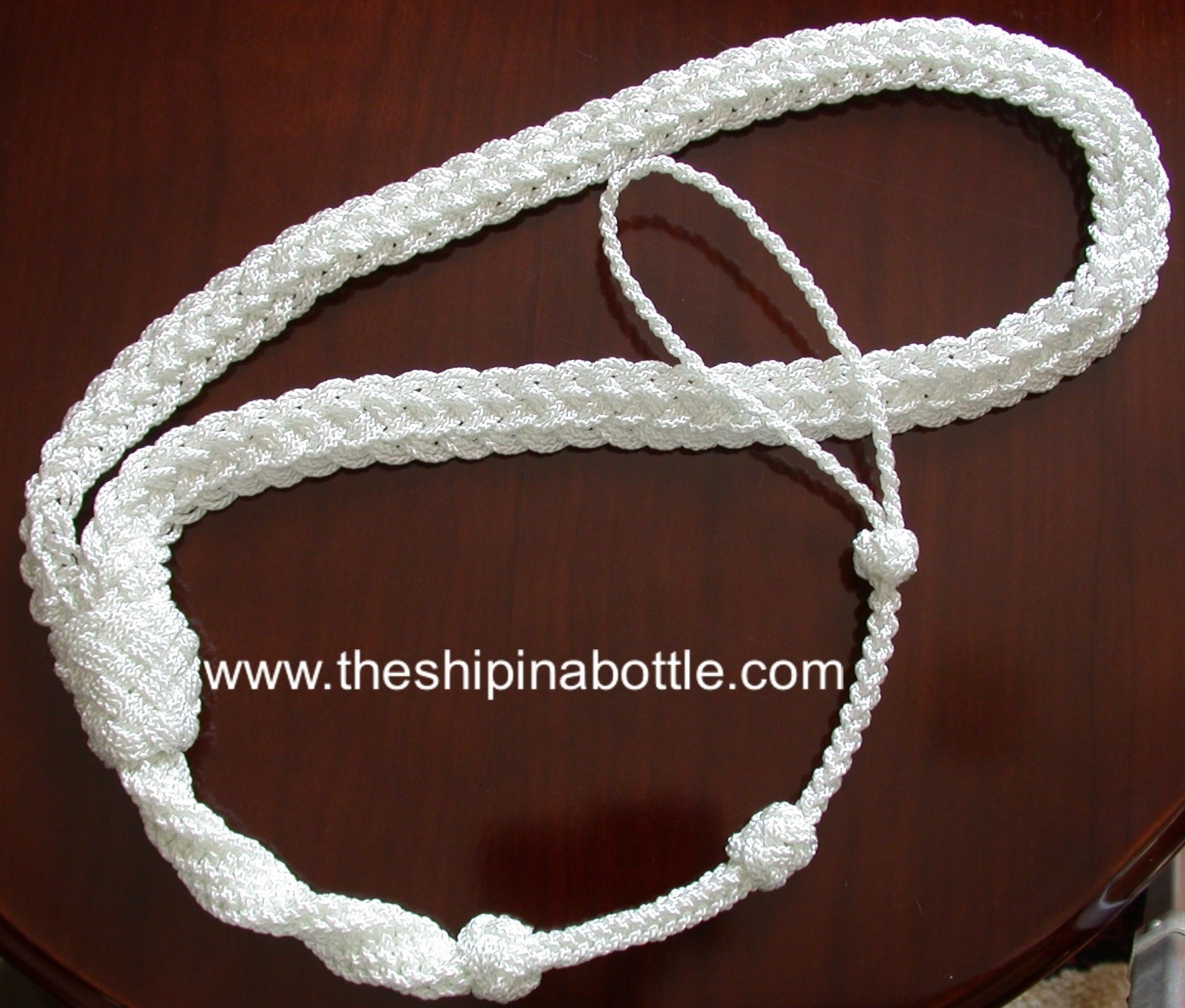 ---
Item Description: 9-Strand Boatswain's Lanyard
Less ornate than the lanyard LNYD-0001 but perfect with any pipe Specify black or white or contact us for your custom quote.
LNYD-0002 $44.95
---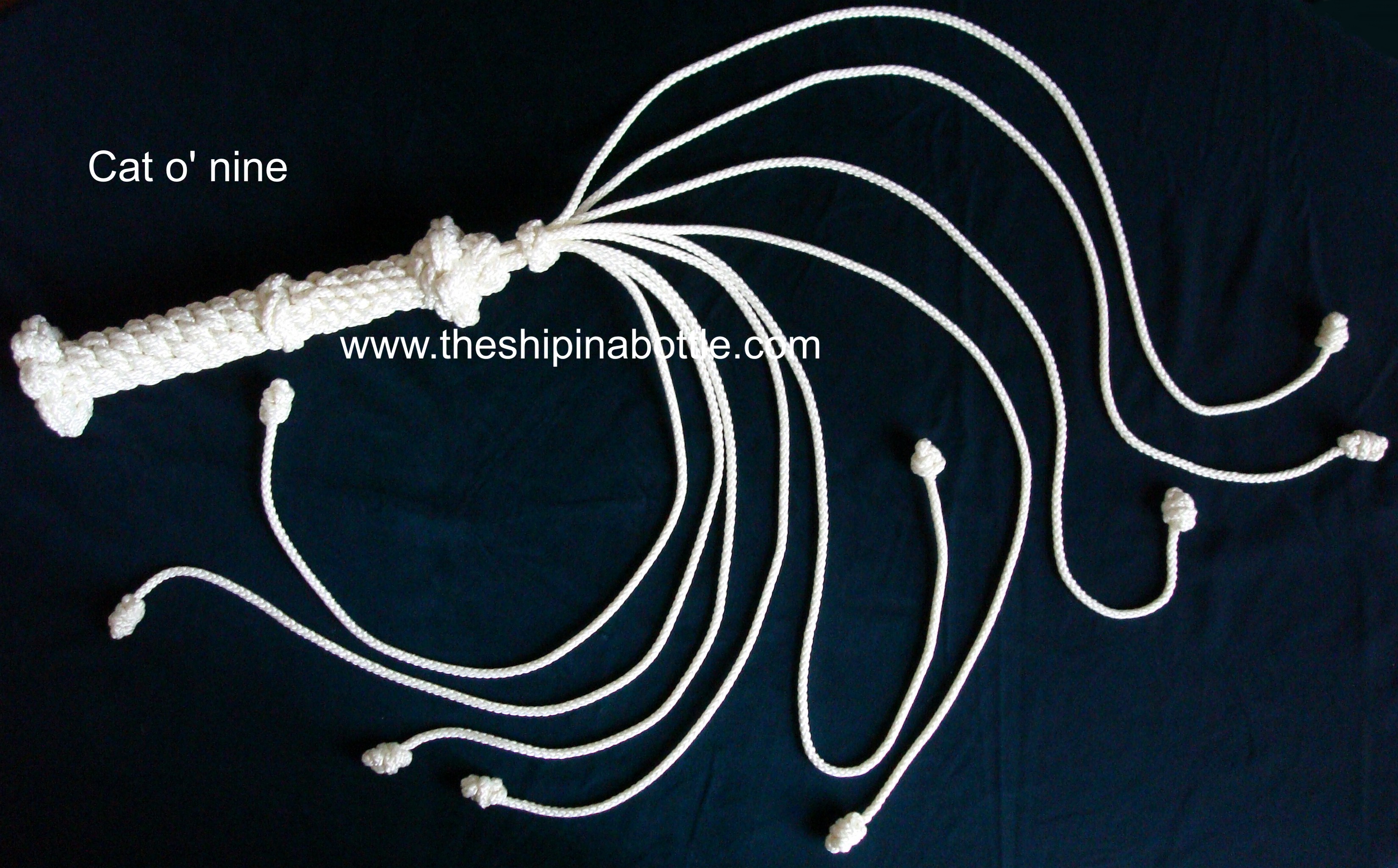 Item Description:
Custom tied Cat O' Nine Tails.
$49.95
Pipe and Lanyard Special. Take advantage of this great opportunity for additional savings! $85.95 for the combination. Click on the image below to see a selection of our lanyards and pipe/lanyard combinations..
$85.95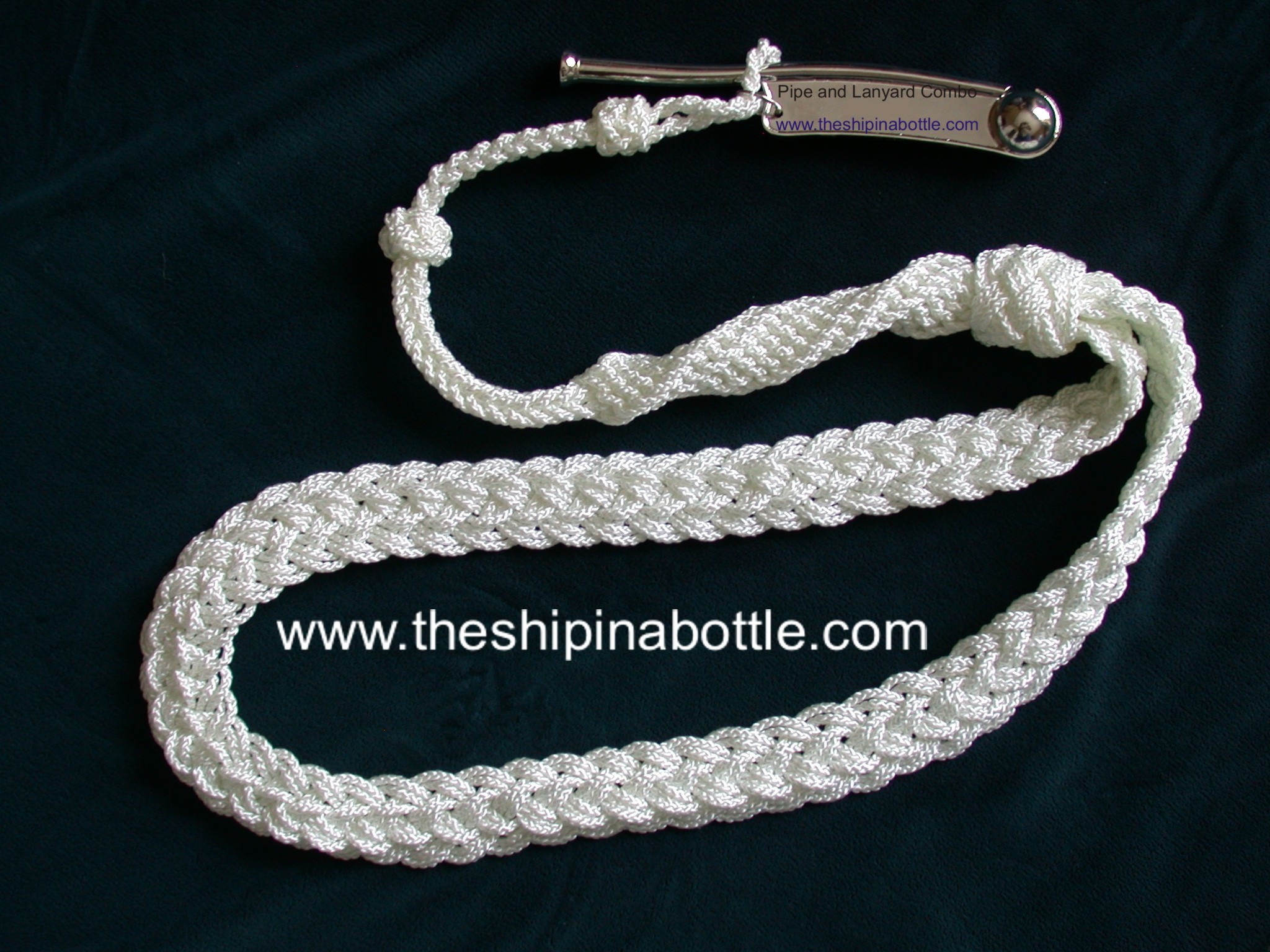 Super Deal on Ship Ball Caps!!
Several to choose from. Click the Cap Image to see a selection.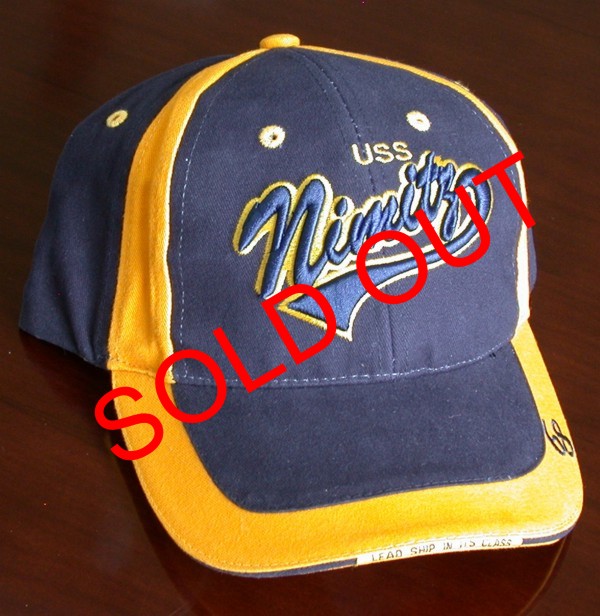 $12.95
The Ship's Bell
In many of the navies and vessels throughout the world, the ship's bell is used to announce time in 30 minute intervals, sound the alarm during fire and emergencies, and is sounded in heavy fog as a warning to other vessels.
It is customary for each naval vessel to decorate their bell with an ornamental rope.


What is the Bosun's Pipe or Boatswain's Call? For starters, the Boatswain, or Bosun, is in charge of the deck crew. The Bosun's Pipe, sometimes referred to as a Boatswain's whistle, is infamously known for its shrill sound, which can be heard over the noise of high winds and heavy seas and is used for signaling the crew.

The 'Ship's' Bell and Bosun's Pipe are used to announce the arrival of distinguished or ranking visitors.


Who is Dennis Mauzy? A retired Master Chief Bosn's mate and very close friend of mine. We shared many trials and tribulations.
Can't Find What You Are Looking For?
Drop us a line or give us a call.
We will see what we can do to expand our inventory.