Ornamental Rope Work - Marlinespike
Thank you for visiting THE Ship In a Bottle web site.
This may be your opportunity to show us your creativity and have some fun! Basically, we can cover almost anything with ornamental rope work. How about a customized golf cart, complete with brass prop and hull number? How would you like a team to come in and custom cover rails, stanchions and fittings on your boat or yacht? Whether you provide us with the object to cover or we provide the object of your choice, you are sure to be pleased. Popular items may be available in stock while others will be custom made to your specifications.
Please Contact Us at (404) 964-8355 to begin your quote. We will discuss the many options available.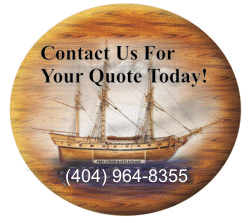 Examples of ornately covered items that our customers have expressed an interest in:
Lamps * Coffee/End Tables * Bistro Table * Plant Hangers * Bell Ropes * Floor/Deck Mats * Key Fobs * Bosun's Pipe * Lanyards * Pet Leashes * Display Cases * Shadow Boxes * Book Shelves * Walking Cane * Golf Putter * Baby Beds/Cribs * Patio Furniture * Tiki Torches * Bird Houses/Feeders * Decanters * Head/Foot Boards * Canoe Paddles & Oars * Harpoon * Wine Rack * Barbecue Utensils * And yes, believe it or not... Toilet Paper Holders!
Click on any of the images below to see additional photos or to purchase.
Bell Ropes

Cat O' Nine Tails

Lanyards

Hammock Knots

Cotton Bell Ropes
Paintable
What is Ornamental Rope Work?
Also known as fancy work - an endless variety of unique knots, braids, and sennits.


Throughout the centuries, a means of passing time for the sailor.

Functional or decorative coverings for any number of items.

Some coverings were used to protect heavier lines from chafing. Other uses were to decorate ceremonial areas and objects.

Objects that were often covered included ship wheels, stanchions, rails.

The infamous cat o' nine tails was a classic example of decorative rope work. Bell ropes and gun lanyards are other examples.