Ships In Bottles
Thank you for visiting THE Ship In a Bottle web site.
A ship in a bottle is without doubt one of the most unique conversation pieces imaginable.
We offer a wide selection of bottles and work closely with you to determine your choice of ship. The bottles we select are clear glass with minimal distortions to enhance the visibility of the beautiful artwork within.
As with our miniature ship models, prices for ships in bottles can vary considerably. The type of hull, amount of rigging, and level of detail placed into the model are key factors in determining a price for your work of art.
Please Contact Us at (404) 964-8355 to begin your quote. We will discuss the many options available.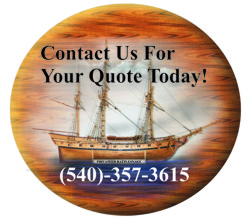 WHAT YOU GET
My personal guarantee that you will be completely satisfied with your custom purchase. If you are not completely satisfied, a partial refund may be issued. There are restrictions and conditions I feel are reasonable so please familiarize yourself with our return policy.
A weekly report detailing the status and progress of your model.
A wide range of options. For ships in bottles, each heirloom comes with a custom set of options which we will discuss on the phone when preparing your quote.
Generally speaking, our ships in bottles are grouped into three categories. Standard, Premium, and Signature.
Standard ($200 - $500)
Typically smaller vessels such as single ships with a single mast, minimal rigging, and less detail than you would expect to find in the premium model.
Premium ($500 - $1,000)
Your choice of hull construction style/materials. For example, solid premium wood hull or, plank on frame style (frames fully or partially visible). Premium models have a significant increase in the level of detail when compared to standard models. Premium models come with photographs and a journal chronicling the construction of your model. If available, historical information on your subject vessel presented on CD. Each heirloom also comes with a certificate of authenticity numbered, hand lettered and signed by the builder.
Signature ($1,000 - up)
Our Signature series ships in bottles offer a substantial increase in the level of detail when compared to the standard series. Signature series heirlooms come with all the features of the premium series plus many distinguishing features. A highly ornate bottle stopper and elaborate rope work decorates the end of the bottle neck and opening. Each comes with a scrimshaw signature plate made from genuine ivory recovered from piano keys. These plates attractively identify the model name and date when available. Each ship in a bottle includes a custom crafted display stand, a work of art in itself. Ship plans, suitable for framing, are redrawn and included with your model. Your ship in a bottle also includes a hand written leather portfolio chronicling the actual construction of your heirloom. As with the premium series, your artwork comes with an extensive set of photographs. For models exceeding $5,000 in value, I will personally deliver and present your art (Continental U.S. only. Additional travel fees are required for Alaska, Hawaii, and international destinations).