Display Cases
Thank you for visiting THE Ship In a Bottle web site.
Our shadow boxes and display cases are the finest on the market!
What distinguishes our display cases from others? For starters, they are constructed of premium hardwoods. No composite materials are used in our cases! The highest quality velvet with thick batting is used in our backings and strengthened with high grade plywood.
Corners of the face are protected with nailed (not glued) brass fittings. Each of our cases comes with a Glass or LEXAN face. Ornamental rope work on trim is included at no additional cost. To our knowledge, we are the only company to offer this extra level of detail.
We offer our cases in three standard sizes. Of course, we will be more than happy to make a case tailored to meet your requirements if our stock cases do not suit your needs. Just call or email us for a quote.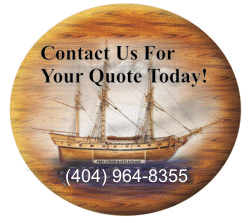 Please Contact Us at (404) 964-8355 to begin your quote. We will discuss the many options available.
---
16" X 20" X 3.5"Item# DC-1620 Price $179.95

---
18" X 24" X 3.5"Item# DC-1824 Price: $189.95

---
24" X 30" X 3.5"Item# DC-2430 Price: $199.85

Please note this item is the case only. The model is

not

included.