Services
Thank you for visiting THE Ship In a Bottle web site.
Our services range from the repair of damaged ship models to detailed yacht customization and will soon include training seminars and work shops.
Do you want to add elegance with a nautical flair to your personal yacht or boat? Consider ornamental rope work and customized awnings. Picture your stanchions and rails covered with highly decorative rope work. Detailed ornamentation of ship wheels, installation of decorative canvas awnings, and even scrimshaw on electrical outlet/switch covers add a distinctive touch of class and sophistication to any vessel.
Please contact us at (404) 964-8355 to begin your quote. We will discuss the many options available.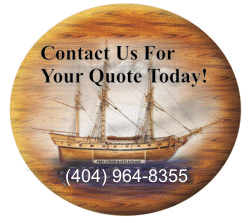 The Ship In a Bottle will soon begin conducting classes and seminars in our home shop.
Our ship model building classes will be tailored to the construction of wooden warships and focus on critical fundamentals of ship model building. Elements such as interpreting and drafting plans, hull construction, planking, rigging, and deck furnishings will be thoroughly covered. Additional topics such as casting small parts, making miniature lumber, and how/where to obtain suitable plans will also be discussed.
The syllabus for building miniature ships in bottles and ornamental rope work will also include the fundamentals necessary to plan and create your own project. Be on the lookout for additional information in the upcoming months.
Coming Soon
Ship Model/Ship In A Bottle Seminars and Work Shops.


Ornamental Rope Work Classes.
Available Now
On Site Boat/Yacht Customization.


Ship Model Repairs.